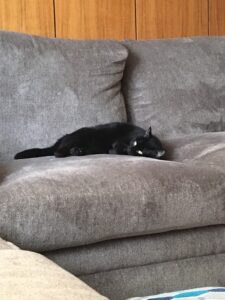 cant believe its been a whole week already! wow!
First i wanna send kisses and birthday wishes to someone very important, she knows who she is. xox
Me and Star seed my vet on Monday. Stars kidneys and bladder got better but her calcium has not changed, but it can be 6 months fur that to happen. I am doing super good too. My muscles were so jelloy only my left hip was bugging me. Dr. Marshall said thats so good. The stuff mom is giving me again is working good with assisiloop and so i been practicing my walking too. I dont even need mom almost now, i can do everything alone again 100%.
You probably saw me eating live a couple times. I didnt even know mom had the camera on until i was half done! She can be silly but she said everyone loves me and liked watching so we should do it more. I have to say if you seed my lunch time live video, i kind of like watching myself too!! MOL
I been watching cartoons lots too while mom cleans or cooks. But its been a pretty boring week with rain and stuffs.