#BlackCatAppreciationDay yaay!!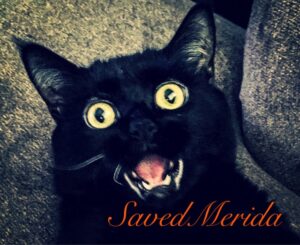 Today was black cats appreciation! We had a good talk on my page about why peoples love their black kitty cats and there was pics of some real purdy black kitty cats!! My OH MY! I am so jealous and i wanna look like some of them! Like Rosie… She has the most longest and pretty furs! And Serpepe has these real long nice whiskers! Bryn is spoiled and chats lots. Wow! So many wonderful kittys that are lucky black cats to have homes. ❤️
This week mom tried giving me some of my old herbs and its helping alot! My ear fluid goes away fur a while when I get it and my muscles all turned to goo. Mom calls it jello body? I have been slowly practicing my walking by doing my babysteps like mom tells me. And dad gives me lots of bellyrubs while he isn't in school. Its pawesome! I get bellyrubs like every day!
Mom is getting better at wheres Merida so i had to find new places to hide, but not hide real good cuz then mom cant find me. Hehe. She still isnt the bestest at finding me in the new place.
We picked out some calendar pics too when mom had some time. Mom says maybe we can start it now that her article for The Daily Mews is done. Its gonna be published at the end of the month. Moms super excited (wow thats a tricky one to spell!) i need to remind mom i need more spelling practice.
Had a tiring day tweeting and facebooking. So its evening nap time! Zzzz.