Rainy days are really no fun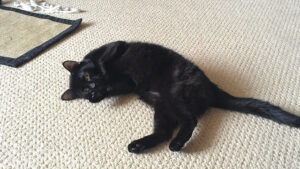 It has rained lots here so i am so dizzy on the days. There isnt much to say really, it has rained almost everyday and on not rainy days it has been windy and icky still. It has made me so dizzy that i sleep alot. But when I am not sleeping, i was eating the dog, and practicing stairs with mommy.
Mom washed my blankey too! its super soft now again and i still love it so much! maybe even more than before if thats possible!
We had a big noisy truck here, and mom and i had to go hide in our cars because the truck was really a BIG BIG vacuum! They sucked all the bad stuff out of the furnace because the landlords said it was icky from the past people. Nice landlords to think of that, but the truck was SO scarey and noisy still! I was really scared in our car, the truck was so loud still! I don't want to see that vacuum ever again.