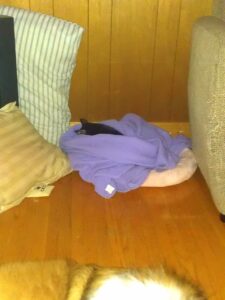 So this week I gotted the diareeah. Mom had to call my Dr cuz it didnt go away in a couple days. Mom kept me inside sins friday, she finks its cuz i eet the stickz outside when she doesnt look. I wont let her know she is rite. We haff a mountin ash tree, an thats poisin fur kitties so mom alwayz tells me not to eet the berries an little stickz, but lets face it.. they taste good an so i swallow before she can get them away. Nom noms! I dont fink ill eet them again tho cuz i really dont like diarreah. Iz.. not so fun. So mom is keeping me in until the bad poops go away. 🙁
We haff had so much tunder and heet! We haff warnings again today for bad wether. I couldnt find a hidey spot last nite at 3 when we had tunder booms. Even my bruddur and sistur were runnin and they went to go save mommy. They kept her safe all nite!
I am haffin heets rite now too, so i am just cooing an lookin fur a boyfurend rite now. Oh, an sleepin. So i know it hasnt been good videohs. I am busy getting into too much trubble rite now.
I should go bite the dog an see if i cant get him in trubble.