Dis pass week haz been crayzee! Mom gottd her compootur fized. Dey laffd at da stor cuz dey say dey nevur evur see anyfin lyke it, bud moms hard dryv onlee werkz wen yew tern it upsyd dowen! So she gottd hur compootur baks now, but den dadee got da flew and mom hadda do evreefin arownd heer an den she got da flew an we coodn pway. She wuz soo sik. I faut it wuz ok i snuggl her but den she sed she wuz full of mewkiss an i didn wanna get mewkiss diseez! i hid undur da cowsh loss. Bud den, i startid haffin heets, so i peed on da floor tew let da boyz all noe i am heer. Mom was reel REEL mad! She wayks up to my pee spotz evree mornin an she kleens dem! How ar da boyz gunna fynd me if she keepz kleenin dem up? Grrrr!
Mom lettid me haff my cannip toyz, onlee a few cuz it mayks me reelee off an i feel dizee afur. I sheerd my whizkurz an so mom woent lemme in da kishen agin. I lyke to rub on da tyle, so den i rub my whizkurz reel small an wiffowt whizkurz, i ged dizee.. reel dizee an wok in sirculs.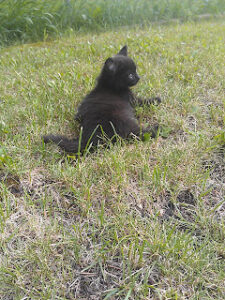 I see my Dr on munday, an mom is reel egsytid. I am kynd of egsytid too cuz i reely luvs Dr Marshall. An i ged to asplor da klinik too, i luv asplorin! Mom sez she is guna tawk tew my Dr abowt my xrayz an mom askd if my Dr wantid a seedee of my reely old videeohs so she kan see dat i wuzen showin CH an she sed she wood luv to see dem all to go ovur dem am see wot she kan see medikulee. Shes so good to me an mom!
My mewest fing is dat i wanna fowwo mom evreewair she goez. I will mayk LOSS of noiss until I kan see her agin wen she leevs a rewm. So now, mommy tayks me wiff her! So i ged to go evreewair wiff her now! She karreez me intew da kishen, an da bedrewms, an I kan eevun see owtsyd cuz I am high up!! Sumtymz doh I ged dizee frum beein hi up in moms arms. She noes doh and helpz da dizee stop. She is reel gewd to me!
My mom is reel REEL grate tew me, and so ar all of yew wiff all yer grate doenashuns to help me git da help an tessz I need so we kan mayk me bettur. Yew guyz ar pawsum! If yew haffen red it, mom did an inturvew fur a blog at LiveLoveMeow. Dere is so mush mor mom duz fer me dat she didn say, bud if yew nevur reeded it, heer is da link tew it:
http://www.livelovemeow.biz/interview-with-a-cat-person-living-with-a-cat-with-a-neurological-problem/
Yew shood reed hur offur blogs tew, dey ar grate!