So much has happened since I last did a diary. Mom gave me spellcheck and helped me learn more fur typing now so you all can read it better now she says. We practiced lots! Hope I am better now, meow.
We had lots happen! We moved into a bigger place now and I have a yard with grass. I get to dig in the dirt and play with apples that fall from the trees. It makes it nice and shady fur me, but its too hot to go out much sometimes fur black cats like me. Walking on the grass can be fun too!
I am 4 now, and I had my gotcha day too!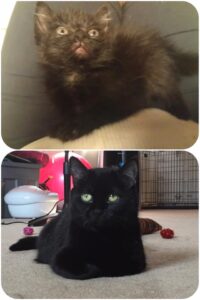 We lost our brother Knigget. We miss him lots and lots. Sometimes we all still cry because we was here so very long with us. I miss him teasing me to pounce him and sharing catnip banana. Its sad but his heart got hurt from the renos at the place we lived before cuz it went on so long. He did good here at the new place, but his heart was still so hurt that any little thing was too much fur him and it finally gave up one morning. I never got to kiss him goodbye…
BUT onto good stuffs! Daddy is doing school and he passed his first course. YAAAY DADDY!! Mom and dad used their points card to 'pay it forward' and bought food for a single mom and her little girls. The girls were happy to have milk and gived mom and dad hugs. I give hugs for milk too! Just sayin' mom. Mommy and me are both healing and doing our therapy. Now that life is quiet and not chaos its nice to get what we need when our body needs it. I can get nice quiet dark sleeps in the afternoon if I want now. Those sleeps are the bestest. I wake up ready to walk and roll! MOL
I started my game again too, find Merida. So far mommy sucks at it and dad has always sucked at it. So i got lonely one day and had to cry out fur mom to find me cuz she had NO clue. I am THAT good at it. So maybe I should not hide so well so mom can find me. Make it easy for her and stuff?
My vet says I am doing real good. My neck is nice and loose, my standing is very good and my walking i am using new muscles i never used before so I have to give them strength and keep working at it to make it so they can hold me when I walk. Mom helps me lots by bending over and walking me and we stand and sniff things on the way as I walk. My ear fluid is still a mystery to mom and the vet. Mom turns me on my back and it disappears, i am getting used to it, but it doesn't last so long sometimes. Thats why they call me the neurological enigma! (I had to get mom to spell that fur me MOL)