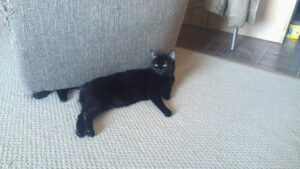 Mom was suffering a migraine yesterday so she couldn't log into the computer for me to do diaree. I was by the patio after I had my breakfast and then I looked and couldn't see the top of her head by the couch. I knew something was wrong, so I called to her and got no answer. Then I had to go see if she was ok! When I saw her sleeping on the couch and moaning in her sleep, I knew I had to watch her! So this was the first thing she saw when she woke up… ME, watching over her. She told me I did a great job taking care of her & me.
This week has been boring. Between some headaches, and being in heat I haven't done much. I watched the birds A LOT, did our regular walk therapy, bit dads feet, chased the dog so i could bite his feet, I tunnelled a little bit, not too much goodness. I mostly relaxed.
Mom and me were reading comments and saw something awful though… A couple comments by two ladies who were not up to speed on me and what is wrong with me. They made a mistake and said some really horrible things about me, but mostly about mom. I guess this just happens on pages, and mom got SO mad, like SO mad I have never seen her like that! She put me down off her lap, and she made a pot of coffee and then looked at me and said "Merida, these people just do not understand! I love you SO much, and I know you love me, and you ARE getting better! You are! You aren't sick, you never were sick, so WHY don't people listen to us? Why don't the vets listen, why do people type stuff so hurtful on your page?!" Then, she just stopped talking and I thought something was wrong, so I   coo'd at her, and she blinked. So I coo'd again and then meowed at her, I was like "Mom? MOM!?" and she grabbed me, and hugged me and scratched my head until I purred, and then she said, "You know what Pookie.. People just don't understand. Thats why mommy started your pages, to help people understand. So let's do that!" She kissed me and went quiet and started typing so fast, like so fast i never seen before! By the time she was done, she made a diaree herself and posted good stuff about us on there, and some of my furends too. You can read it
here
if you missed it, but she says we have to share it LOTS!
Sometimes I think that moms purple hair, gave her super powers… I know it tasted good.
My fundraiser is still going on too, fur my treatments. http://www.petcaring.com/savedmerida/ and also we have furends and family furidays too! Go here if you want to find out the details on that.