Mom says we might be done with our brake, but there is still lossa bad stuffs going on here.
someone we care about, has cancer. Cancer makes people very sad I learned
today is the last day of our lees, we have no place to move cuz of me, but mom wont giff me up
moms medical stuffs, its badder than she thought. She cant work probably forever
monies of course, who duzzen haff this problem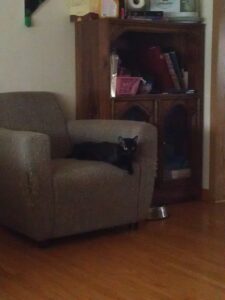 Iz been a rough week and a bit, but the good mews I am sure you haff seen on my FB. I climbed the chair when mom wasnt looking, and i did it again today too. I am layin on it now doin diaree while mom is preparing dinner stuffs. MOL! This chair… IS MINE NOW! (Don't worry, even though I climb down by the china cabinet, mom puts down my crash mat incase i get excited to chase Star and fall off instead)
I haff been walkin more too now since my last needles. I was a real good girl mommy said at the Drs too. Mom is gonna do an interview with her for my pages. We luvs her cuz she was the only one to listen and believe in me as much as mommy does. I see her next on Aug 16, I am eggsited actually to see her, she always makes me feel so much better!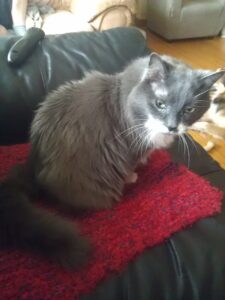 I got my comfy, lovey, blankey from Knitting4Kits last week. We all fight over it though…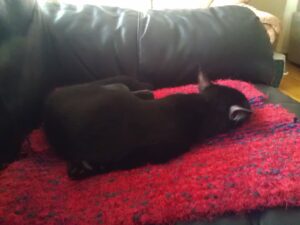 It was hand made JUST fur me, but mom said we share in this house. Pfff..
Mom is haffin some nerves pain, i am gonna go purr and mew at her to make her smile.
xoxo Merida